While 2020 was a challenging year for content creators across the world, the DMT Quest documentary will be released in the Fall of 2020. This initial episode will feature the results of the ground-breaking DMT study published by a young scientist named Dr. Jon Dean. The story of Dean is an intriguing one as his path towards becoming one of the world's leading DMT researchers is far from typical. Originating from Youngstown, Ohio, Dean would attend Youngstown State University majoring in chemistry. When he was 19, a close friend of his died causing him to take an introspective look at the fragility of human perception.
During this time, Dean would come across Dr. Rick Strassman's book "DMT: The Spirit Molecule" which spurred an intense interest in the role of this powerful psychedelic molecule produced within the human body. However, instead of taking the linear path from undergraduate chemistry to his graduate training in physiology, Dean would spend much of the 2000s playing guitar for a popular local indie rock band named Asleep. In 2011, the band recorded it's final release named "Unpleasant Companion". During this time Dean would also teach guitar at the Rich Center for Autism at Youngstown State University and other locations.
(Dr. Dean in the Lab)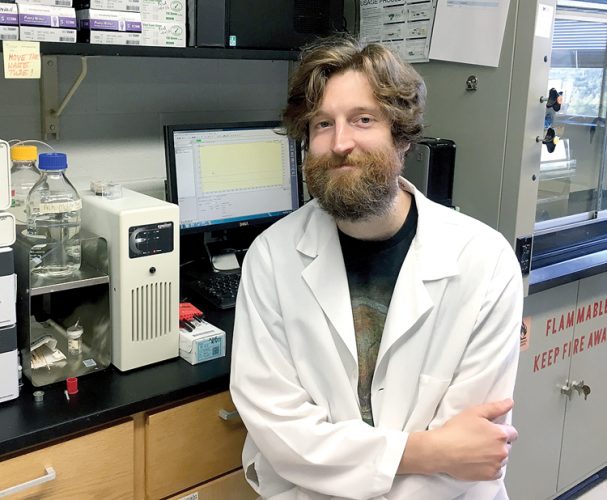 Following the 2011 record release, Dean decided to pursue his passion for DMT research and reached out to Dr. Jimo Borjigin at the University of Michigan. Dr. Borjigin was one of the only DMT researchers in the world with the knowledge and technology to dive deep into the research of this mysterious molecule. Dean would eventually work directly with Dr. Borjigin and would spend several years diligently developing lab techniques, compiling data, quietly working on the weekends, and writing/re-writing his journal submission. It was this effort by Dean that provided the world with game-changing information regarding endogenous DMT. Prior to the publishing of his paper, "Biosynthesis and Extracellular Concentrations of N,N-dimethyltryptamine (DMT) in Mammalian Brain" in 2019, it was largely speculated that DMT was solely produced at the pineal gland in the brain and likely only released during moments of high stress such as near death experiences (NDE's) or dreaming. However, the data presented by Dr. Dean literally upended all of the past speculations regarding endogenous DMT.
The 3 main data points from Dr. Dean's paper is as follows:
DMT is circulating at similar levels to serotonin, dopamine, and norepinephrine in the extracellular fluid of the brain
The 2 enzymes necessary to create DMT are found not only in the pineal gland but also at the choroid plexus and throughout the cerebral cortex
DMT levels increased 600% in the visual cortex of rats following cardiac arrest
This information is very important for the human understanding of neurochemistry and perception. This is the underlying reason for developing the initial DMT Quest documentary. A spotlight must go on this finding in order to spur greater support of this field of research. While Dean is a very talented young scientist, he will need assistance in his journey to better define the role of endogenous DMT in humans. Our mission is to assist in publicizing the ramifications of this study as well as present a picture of the potential for this field of research.
It is an exciting time to see young scientists such as Dean follow their passion and generate information that will undoubtedly mold the future of society. If you'd like to help distribute or market this film please contact me at jchavez@dmtquest.org as we are actively looking to partner with people and organizations that are excited to help this movement of human exploration. The time is ripe and there is a necessity to assist the scientists in this field get the word out that support is needed to further this area of research.
DMT Quest is a non-profit 501(c)3 dedicated to raising awareness and funds for endogenous DMT Research. This specific field of psychedelic research has been underfunded for many decades now. It's time to take our understanding of human physiology, abilities, and perception to the next level. You can also follow us at Facebook, Instagram, or Twitter.